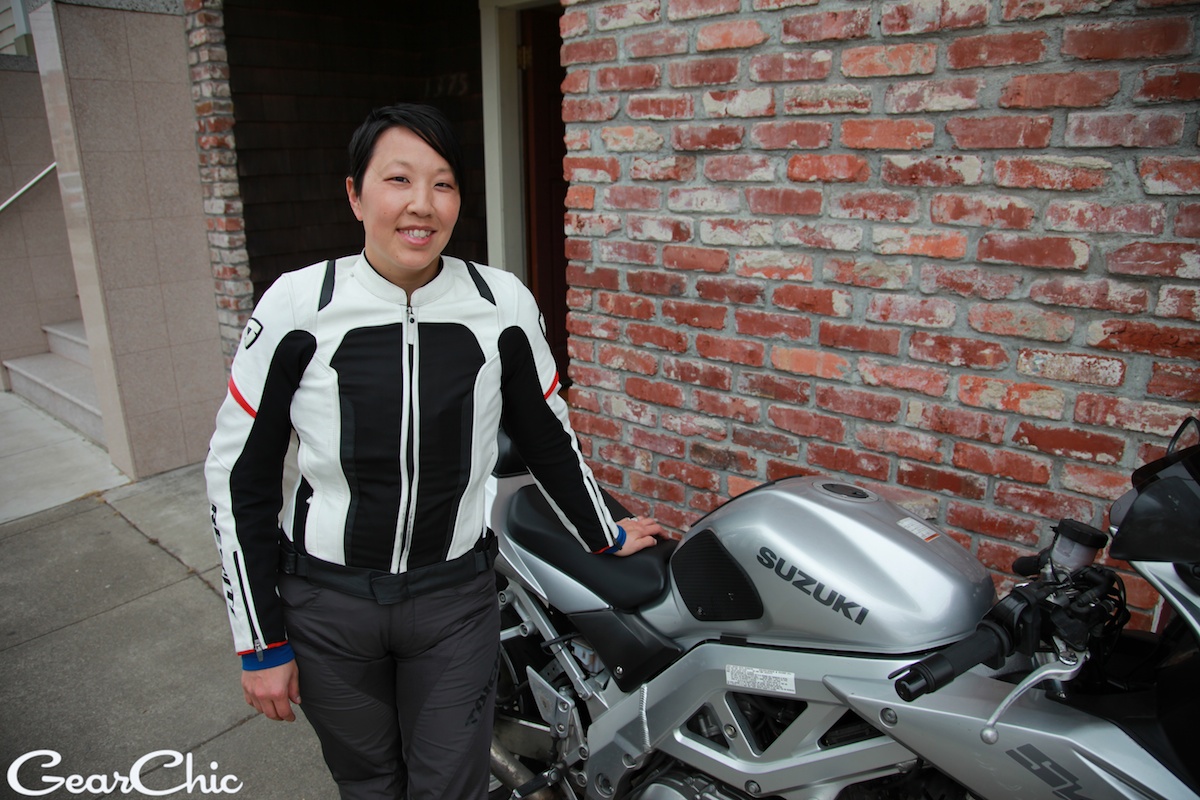 So you're shopping for a sexy leather jacket. But you HAVE to have a white one. I know you're out there, even though there aren't many of you. White isn't as common, although I have found that riding in my white leather jacket in 90+ degree temps that it works *really* well. There may not be 10 to choose from, but here are a the ones that you should check out!
Most of these are certainly more on the sporty side. But remember, you can wear *anything* you want on *any* kind of motorcycle you want. It doesn't matter. It comes down to what's comfortable for you, what works best for your riding lifestyle and overall comfort on the bike in riding position.
MSRP $499.95. Sizes 40-54 (~US 2 - 16). What's really fantastic about this jacket is that it comes in a Non-Perforated version! It's exactly the same, but without perforations for cooler weather. There aren't any other brands in my list that offer 2 versions of the same jacket. I also love that it comes with a removable, full sleeve thermal liner (in both versions). So you can push it to Fall (East Coast), or year round riding (West Coast).  The fit is fantastic, a nice hourglass shape that looks beautiful on everyone. *If* I needed another leather jacket, this would be near the top of my list.
MSRP $599.95. Sizes 40-52 (~US 2 - 14). I LOVE this jacket. If only I *needed* another one. She's definitely #1 at the top of my list. Something about this jacket when you put it on makes you feel SO fast (and hot!). It's probably the best women's leather jacket on the market right now, fully ready for the track with the titanium sliders on the shoulders and aggressive race fit. The sleeves run a bit long and the length is a longer as well. I can actually fit a size down in this to a 40. I'm normally a 42.

MSRP $499.95. Sizes 34-46 (~US 2 - 14). Read my review of the Galactic including features, fit and what it has to offer for summer riding. It's my all around summer jacket, I love it and you will too!
MSRP $449.99. Sizes 34-44. The Xena is Rev'it's sporty leather jacket for women. The fit is a nice hourglass shape, not too long and not too short. It has a few perforations here and there, and it has a fantastic matching pant. The only downside is the pant is also white with Kawi green. (Sorry Honda, Aprilia and Ducati gals!) This outfit in a 38 (top and bottom) fit me perfectly. I'm normally 36 in Rev'it but this outfit is running a bit narrower than usual.  Of course, I really love this one too and would love to have it in my closet as well. But the husband will kill me....
MSRP $499.95. Sizes Euro 46-50 (~US 12-16). I like the flat collar the aggressive cut. It fits really well if you have an average  - short torso. I love the fit, not too long and not too short. Very light for summer riding. It has a few perforations but it isn't heavily perforated. The stretch panels help with breathability but it'll definitely be toasty in really hot summer temperatures. I fit perfectly into a Euro 40. Unfortunately the matching bottoms aren't white.
MSRP $580, Sizes S-3XL. The Maven isn't flat white, but it's cream. Quite lovely in person, really. The Maven is great if you're looking for a casual, cafe style jacket that you can fully armor out. The fit is a bit tough in the bust, so if you need a bit more room there I would order up a size. This one also comes in 3 other colors including Oxblood red.